The traditional Indian food covers this wonderful vibrant wave from the Himalayas to the Indian Ocean and the Arabian Sea to the Bay of Bengal. The Indian cuisine draws an inspiration from all twenty-two regions and the food varies and influenced by the local cultures. Indian curry is over 5,000 years old. Basically, curry is a gravy dish or a stew like dish with spices and flavours and seasoned with hot and sour tastes. Nowadays, curry has become the symbolic British word for Indian dishes that could be eaten with rice or rotis.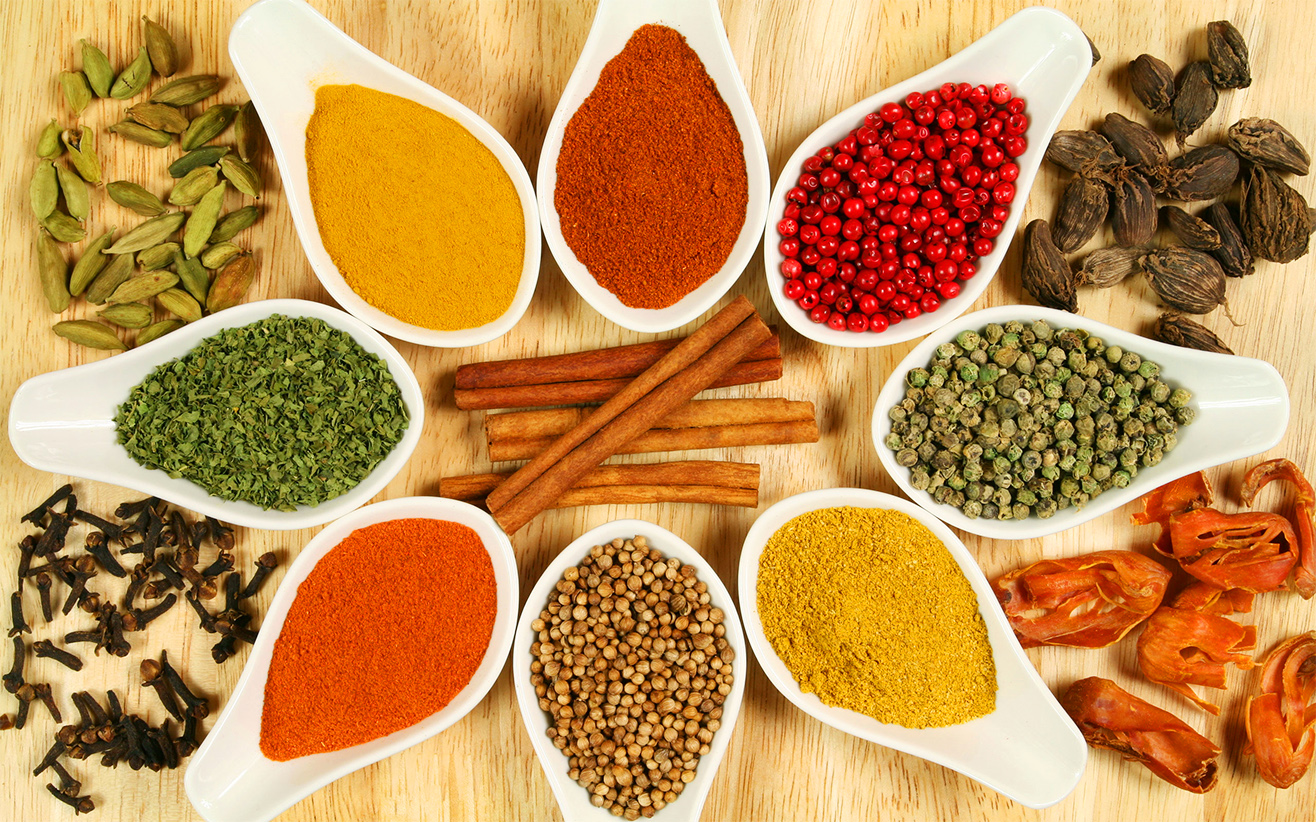 1. Spices: they are derived from plants and are aromatic dried bark, roots, buds, seeds, berries or fruits. When spices are heated the aroma and flavour is released
2. Curry: the traditional Indian curry often associates with the following spices, coriander, turmeric, fenugreek, cloves, ginger, red and black pepper as well as other spices.
3. Bhuna Masala: 'bhuna' is a Hindi term for food preparation of the various spices (Masala) in hot oil to release the natural oils and flavours of the spices and remove the raw taste.
4. Tadka/Bargar: 'bargar' is a Hindi term for the procedure of frying whole spices is and is a method used for the same motives as Bhuna, to cook out the raw taste from the spices. The oil used should be hot and the spices added whole.
5. Masala: it refers to a mixture of spices sautéed in oil or ghee.
6. Curry Powder: it is made with many spice combinations. More than a few dishes in western countries like America and U.K call for curry powder which fundamentally consists of turmeric, cumin seeds, coriander seeds, mustard seeds, five spice powder (cardamom, cinnamon, black pepper, bay leaf and cumin), with red chili powder.
7. Turmeric: it is called 'haldi' in Hindi and it is a deep yellow powder obtained from crushing a dried plant root. It's recognised for its colour and down-to-earth flavour in many Indian and Asian dishes.
8. Cumin: it is called 'jeera' in Hindi and it is a spice with a vast variety of culinary uses. It's a very important element in Indian and Ayurveda cooking. Indian curries and dry vegetables are mostly flavoured with whole cumin seeds. Cumin is considered to have digestive properties and is also considered to have cooling properties.
9. Tandoori: it describes a style of food exclusive to the north Indian state of Punjab. A tandoor is a cylindrical clay oven used in northern India and Pakistan in which food is cooked over a hot charcoal fire.
10. Authentic Indian cooking: it demands for the use of varied spices, as per the recipe requirement and added at particular intermissions during the course of the recipe, rather than in one go as a paste or curry powder. This method is tough and laborious art to master in today's 'time-poor' lifestyle.
Listed by the BBC as 'One of the World's Best Curry Houses', the Indian Restaurant 'Aladin' is famously known for serving exceptional curry in a busy bustling Brick Lane environment. Recently 'Aladin' was declared as the Winner for "Taste Brick Lane Curry Awards" and crowned "Best Curry House in Brick Lane" by Celebrity Chef Ainsley Harriott with the Mayor of Tower Hamlets. For more information, refer to their website- http://www.aladinbricklane.net/